Wow. This is the first time I see a green colored Waddle Doo
— Waddle Daa first meeting Ron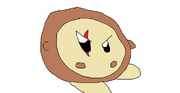 Info
Ron is a Waddle Dee who's alignment is good (formely evil). He is one of Party Ninja's friend.
Look
His look is like any other Waddle Dee, but with a scar across his left eye.
Trivia
His scar is the only thing that makes him different from any other Waddle Dee.
He was raised by the Dastards.
He is also known for being Party Ninja's first rival.