Leave it to me!
— Super Smash Bros. Brawl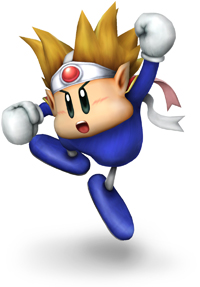 Info
Knuckle Joe is a friend of Party Ninja. He makes his first appearence in Kirby Super Star. When Kirby sucks him up, he gets the Fighter ability.
Trivia
In Kirby Super Star, he is the only enemy that gives the Fighter ability.
It is confusing how first before Knuckle Joe becomes an helper in Kirby Super Star(and the remake), his clothes become blue, red in the sub-game Helper to Hero, and pink when an enemy.