This page have been tested and have been the first page to use the Quote template.

Ye can leave that to me.
— Captain Metal
Info
Captain Metal is Metal Sonic v3.3's remains, but have been upgraded. Even though what happen to it is unknown, but in the ending saga of his debut, he was shown to be alive.For more info, click here.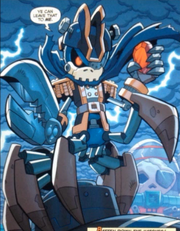 Something seems..."broken"
This article is a stub. If you're an administrator, you can help by extending it.