This is the place where your tomb will lie, now behold of my power in my sword, 'ninja'.
— Bukiset
Can you keep a secret?
This article contains plot details about an upcoming comic, character, or game.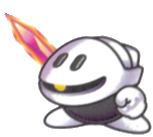 Info
Bukiset is an enemy that so far appears in Kirby's Dream Land 3. He gives the Burning, Ice, Spark, Needle, Cutter, Stone, Parasol and Clean.
In Party Ninja Comics
Bukiset is a "traitor" to the Kill Squad.
Trivia
Bukiset's ability in Kirby's Dream Land 3 is based on what he is holding.