Can you keep a secret?
This article contains plot details about an upcoming comic, character, or game.
This page have been an Top Page as of 3/3/2014.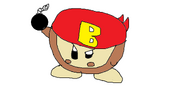 Info
Bomb Dee is a Waddle Dee who's alignment is neutral. He is half of the time Party Ninja's friend and rival. Also, he is Bullet's friend.
Trivia