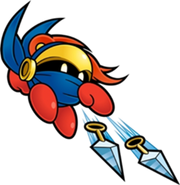 Can you keep a secret?
This article contains plot details about an upcoming comic, character, or game.
Biospark is a enemy that appears in Party Ninja"2:Behind the Mask. Not much is known about him. One thing is that he is a retired member of the Kill Squad.
Something seems..."broken"
This article is a stub. If you're an administrator, you can help by extending it.