This page have been a Top Page as of 2/14/2014.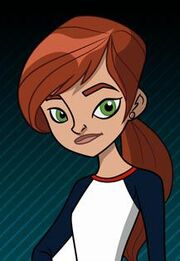 "This is Ash from NFL Rush Zone. For other pages with the same name, click here."
Info
Ash(short of Ashley)is a character from the NFL Rush Zone. She used to work for Sudden Death and helped captured Ish. She was spposed to be the Guardian, but the Hall of Legends had determined her to be unworthy. In the movie, she betrayed Sudden Death and hepled Ish defeats him. In the second season, she becomes a Guardian. She begans to take on Wild Card and Drop Kick. In the third season, she fought Sudden Death once again. For more information, click here. For the gallery, click here.
Description
Ash is an 11 years old Caucasian redhead with freckles and best friends with Ish. She is a good student and athlete, an adorable Tomboy.
Powers
The powers below is when she is in Guardian form.
Super Kick
Ash's kick creates a swirling vortex that packs a powerful punch.
Super Stomp
Her kick can be super-powered, can make the Earth shake and sends a energy wave knocking things back.
Team
She is in "second-in-command". She is the only girl in her team. Her team is below: